z17: Gilbert van Lannoy, heer van Santes, Willerval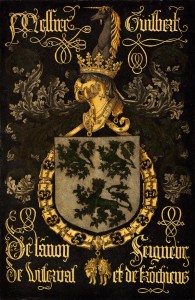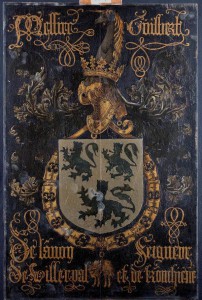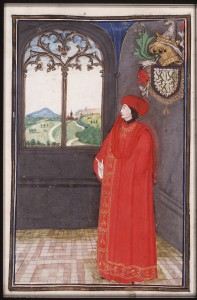 The armsis heraldically not entirely correct. The family armsof the House of Lannoy shows three green lions on a silver field. The red shield hem added by this specific branch of the family is missing from the Coat of Arms of Gilbert of Lannoy in The Hague. The shield hem is also missing from his brother Boudewijn of Lannoy's Golden Fleece Coats of Arms in The Hague (N04), but is found in that of their brother Hugo of Lannoy (N02).
Although hardly recognizable for corrosion of the underlying silver layer, better preserved source material shows that the three lions in the armswere once a bright green.
An analysis of the photographs made of this Golden Fleece escutcheon in the twentieth century shows that during previous restorations various minor changes were made to the helm, the coronet, the punctuation marks in the inscription and the associated decorative lines.