n09: Jacob van Lalaing, heer van Bugnicourt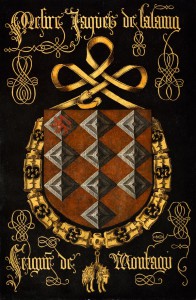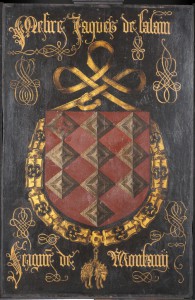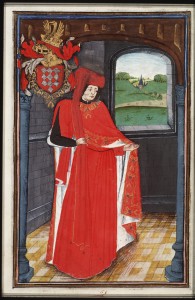 The shields of Jacob of Lalaing and his uncle Simon of Lalaing were mixed up. According to the visual historic source material, the red lion in the upper left chequer belongs to the shield of uncle Simon.
Jacob of Lalaing joined the Order of the Golden Fleece during the Eighth Chapter in Bergen (Mons) and he died before the Ninth Chapter in The Hague. Although the word "trespassé" is missing from the Golden Fleece Coat of Arms in The Hague, the fact that the crest and the covers are missing, and the presence of the belt, indicate that the knight had passed away.
This was not the only mistake or error that was made in the caption of the Golden Fleece Coat of Arms in The Hague. The original said "Mesire Jaqŭes de Lalaing, Seignř de Montagŭ". Two restorations in the past had made the original text unrecognizable. It is now legible again thanks to the SRAL treatment. However, Jacob of Lalaing was Lord of Bugnicourt and not Montagŭ. Or were the captions of various Golden Fleece Coats of Arms in The Hague mixed up, and should this read 'Montaigu' or 'Montigny': Montaigu after the manor of John II of Neufchâtel (N15) or Montigny after the manor of Jacob's uncle Simon of Lalaing (Z14)?