n05: Jan II van Croÿ, heer van Tours-sur-Marne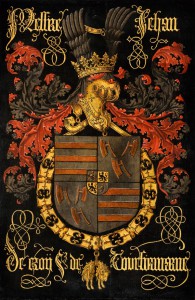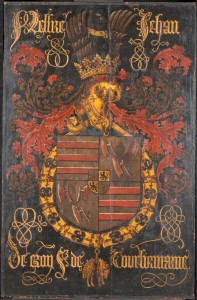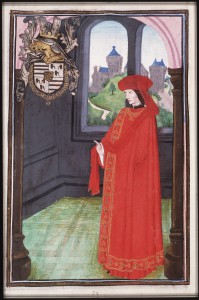 Three red crossbeams in silver represent the House of Croÿ. Three red adzes in silver represent the House of Renty. William I of Croÿ, grandfather of John II, quartered the Croÿ family armswith that of Renty during his marriage to Isabeau, Lady of Renty (married in 1354).
John II, as the younger son, added to this quartered shield a heart shield to 'divide' the arms; after all, according to the rules of inheritance, only the eldest son could carry his father's crest after he died. Quarters I and IV of the heart shield on the Coats of Arms in The Hague are heraldically incorrect. They are supposed to display the Craon arms- lozengy gold and red. Craon refers to the origin of John II's mother Margareta of Craon, from whom he inherited the manor of Tours-sur-Marne (see inscription on the Coat of Arms). Quarters II and III, showing a black lion on a golden field, refer to Henegouwen, where John II of Croÿ was viceroy. John II was the younger brother of the Golden Fleece knight Antoon of Croÿ (N03).
Crest: a dog (greyhound) in black (sable), armed, in full course against a silver background, collared in gold with a gold-coloured pendant.