n06: Jan V van Créqui, heer van Créqui en Canaples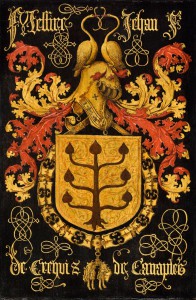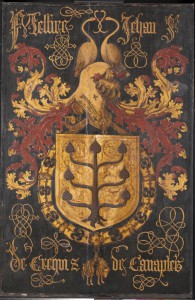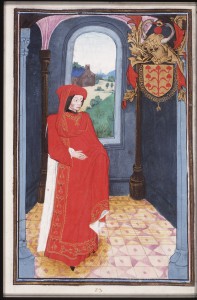 The armsis heraldically correct, but the crest is not. The shield is a so-called 'talking arms': the figure reveals the family name. Crequi is the French word for cherry tree. The cherry tree in the shield is stylized, as a seven-branched candle stand with a stylized leaf on the ends. Originally, this cherry tree was a bright red. Due to natural degradation of colours and the choice of materials, we now see a brown cherry tree. The damascening (the line pattern) in the gold field is purely decorative and does not have any heraldic function.
Crest: two gold swans in closed flight standing on the helm, their beaks facing each other; in their beaks the birds have two entwined eels/snakes. The crest is heraldically incorrect. The fifteenth and sixteenth-century source material found shows that John V of Créqui carried a crest consisting of two swans (heads and necks only!) holding a finger ring in their beaks. The helm coronet is still a red ball; perhaps a cherry?