z10: Karel I van Orléans, hertog van Orléans en Valois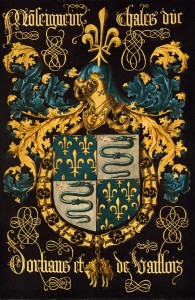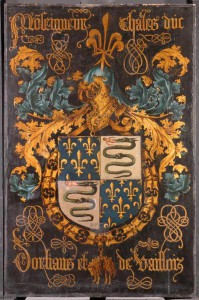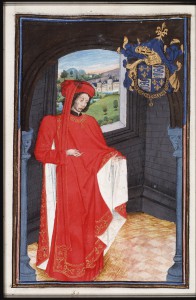 Quarters I and IV showing a gold lily (fleur de lis) in blue refer to Charles of Orléans, descendant of the French Royal Family. In the absence of offspring, in 1498 the Crown passed to Charles of Orléans' son Louis, who is known as King Louis XII.
Quarters II and III with the twisting snake devouring, or delivering, a human baby (Biscione, Vipera or Bissa) represent the Duchy of Milan and the Visconti family who ruled Milan in the fifteenth century. This heraldic figure refers to Charles of Orléans' descent from the House of Visconti: his mother Valentina Visconti was the daughter of the Duke of Milan.
In the battle of Azincourt (Hundred Years' War), this knight was captured by Henry V, King of England. He stayed at various locations in England for many years, where he discovered his talent for French poetry. After 25 years he was released on the insistence of Philip the Good (1415-1440). Subsequently, he turned on the French King and reconciled with the House of Burgundy. During the Fourth Chapter in Saint Omaars in 1440 he was admitted to the Order of the Golden Fleece.