z05: Jan/Íñigo van Guevara, graaf van Ariano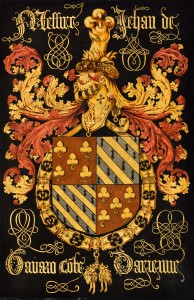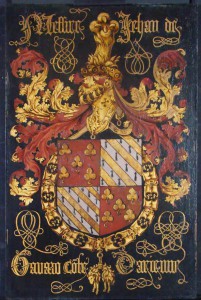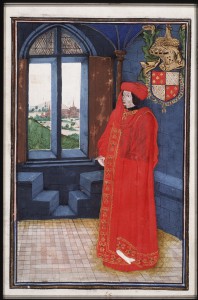 This knight is hardly known in Burgundy historiography, because he originated from Italy and travelled in the circles surrounding King Alfonso V of Aragon (N01). For that reason, the fifteenth-century coat of arms cannot be established with certainty. Moreover, the genealogical and biographical information handed down is very limited and diverse; even his first name cannot be established with certainty.
During previous restorations (in any event before 1909) the escutcheon in The Hague of the Count of Ariano was repainted, so that the ermine tails were hardly recognizable as such before the SRAL treatment. In heraldry ermine is represented by a silver or white field set with pieces of black fur, for an ermine's winter coat is bright white and its tail has a pitch-black tip. The ermine tails are often cross-shaped, always stylized, but their exact shape may vary.
Crest: armed and guardant a lion's claw of gold amidst flames of gold. The coronet has been replaced by a roll of peacock feathers.