n03: Antoon van Croÿ, heer van Croÿ en Renty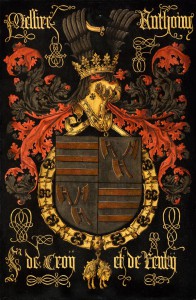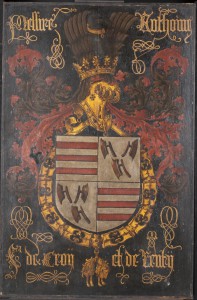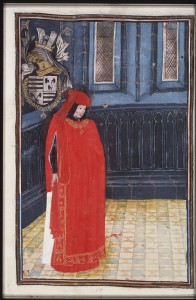 Three red crossbeams in a silver field stand for the House of Croÿ. Three red adzes in silver represent the House of Renty. William I of Croÿ, grandfather of Antoon, quartered the Croÿ family armswith that of Renty during his marriage to Isabeau, Lady of Renty (married in 1354).
The crest: a black (sable) demi-dog, and collared in gold with a gold-coloured pendant. The dog in the crest belongs to the family armsof this branch of the House of Croÿ. Although the animal in the crest on the Coat of Arms in The Hague is black, there are also fifteenth and sixteenth-century sources showing a silver dog.
Antoon of Croÿ was a councillor, deputy and confidant of Philip the Good (Ph). He held many important positions, including that of viceroy of the Low Lands in Philip the Good's absence in 1442, and Grand Master of France in 1462. He was the elder brother of the Golden Fleece knight John II of Croÿ.